Gravity Retaining Wall Construction for Boca Raton Residents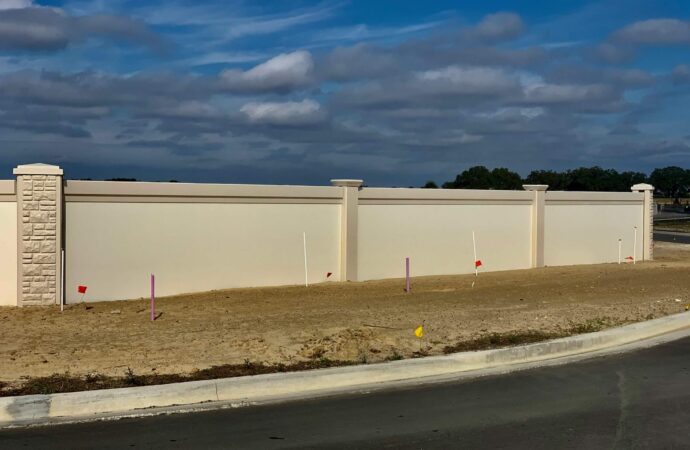 There's a long list of things to know about a retaining wall before you make a decision and choose which one is the most suitable for your business, property, land, or house. This is why one type won't work for every project or result, as they all have special features, pros, and cons. In the case of gravity retaining walls, they are the most popular choice for stability. Retaining Wall Pros of Boca Raton knows best because we have been building them for over 15 years as part of the first services we started offering to our clients in the city and surrounding areas. We are happy to tell you that this is the right choice if you are looking for a simple structure with a mechanic and stunning hardscape that will promise longevity and durability no matter where it is built.
The engineering behind gravity retaining walls works exactly the same way as gravity—as you could have guessed. These walls can stand up to their own weight and are not dependent on any other elements like anchors or steel bars.
It can be difficult to manage lateral earth pressures, especially if there is extra weight on regular projects or if your goal is to create new areas by pouring more soil and holding it with tall walls made of the right material.
Gravity walls are designed to ensure that the slope and terrain don't collapse due to the vertical forces of the wall's weight. It takes a lot of knowledge and hard work to design and install gravity walls. This is why it is important to have highly-qualified professionals who are familiar with the engineering and designing process and not only with the basic structure and the materials that are usually used by just googling it and learning a bit of information.
It Takes Science, Experience & Skills
It looks easy to build a wall with minimal support materials. However, it can be difficult to control the sliding, overturning, and bearing capacities of the wall to ensure that soil retention is perfect and that water draining is possible even when it may not be the main reason for its installation.
Let's take a look at each section briefly to give you an idea of the science behind gravity walls and why our experts understand well how they should be built to guarantee durability and performance:
Sliding is the ability of a wall to overcome the horizontal force applied to it when retaining soil.

The gravity wall's ability to overcome rotational forces is called "overturning." This can be a complex area of calculation and analysis, so it is crucial to know the exact number to ensure safety and prevent it from collapsing.

Bearing capacity refers to the ability of a structure to support weight and retain soil.

Global stability refers to the support and stability provided by the gravity wall based on past abilities and factors. This ensures that the soil mass doesn't shift and that landslides are prevented.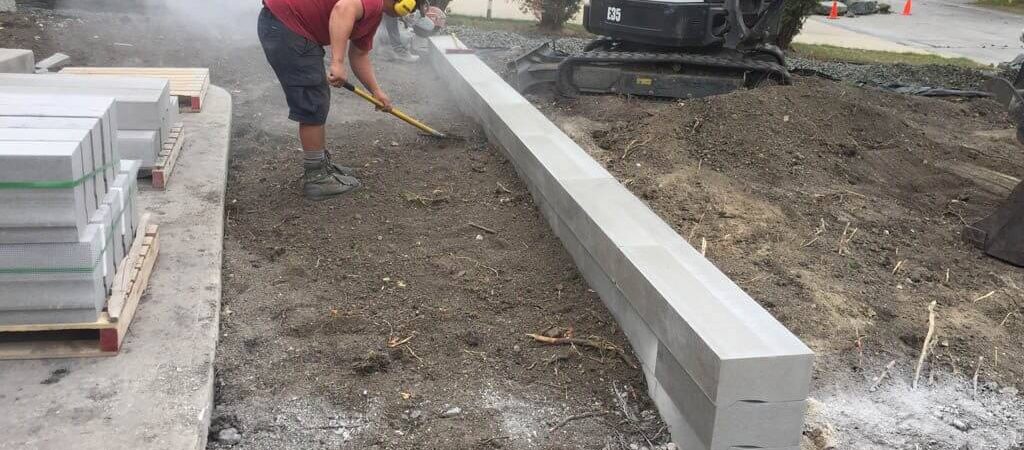 Depending on the amount of soil or earth, the water, and weather conditions, the structure of the wall will gradually change in numbers and structure to guarantee its stability and the support of every single element.
There is a lot to calculate, and how the place and foundation of where it will be built are part of the perfect conditions to actually have this wall.
Are Gravity Retaining Walls for Commercial & Construction Purposes?
We believe that retaining walls can be built anywhere, as long as there is space and meet the specific needs regarding soil erosion and water diverting, then aesthetics and looks.
The design not only looks good but also brings value and functionality, and in the case of gravity walls, it is a matter of determining if it is too much or not for the project you have in your hands.
Gravity retaining walls can be used to prevent soil erosion, divert or drain water, and make new beds from steep terrain. They can also be used for functional or decorative landscaping purposes.
You can use them for both purposes: to enhance the beauty of your property and to bring water to the right places.
If we had to give a guideline on when to use this type, it would be in areas where large soil masses need to remain to create new areas. We also have to make sure that the soil doesn't block roads or other spaces within a property or in the main traffic and public area. It is important to consider when the structure serves more functional than aesthetic purposes as well, but if you are aiming for the latter more than the functional part, this is also valid.
Retaining Wall Pros of Boca Raton is open to helping you build them anywhere you need to, and if we say 'no,' that would probably be because it will bring more problems than solutions either in the short or long term. We recommend looking at other options in those cases or if you're open to more alternatives. Consider the landscaping possibilities and stability. Then, consider if this is the right solution for you.
Gravity walls may not be ideal if water draining or diverting is the main reason for their construction, as they are mostly made for soil retention. However, answering the main question: no, they are not only for commercial and construction purposes.
You can easily have gravity walls in all your residential spaces as the size is what needs to be adapted to the area and property.
How to Finally Have Your Gravity Retaining Wall Built
To get this gravity wall constructed, you only need to call, email, or visit us. After providing guidance and recommendations, our team is always available to help you with your request.
This wall construction process will be very similar to:
Prepare the site for excavation.

Make the wall base.

All base materials must be installed for stability and foundation.

Install the base course.

Install the wall rock and backfilling material.

Clean the site and install all the courses.
We are happy to provide more information and details about our services. Please feel free to contact us at any time and ask your questions about our gravity wall or if you ever need another type built, repaired, or maintained.
Below is our list of additional services: