Retaining Wall Construction Services for Boca Raton Residents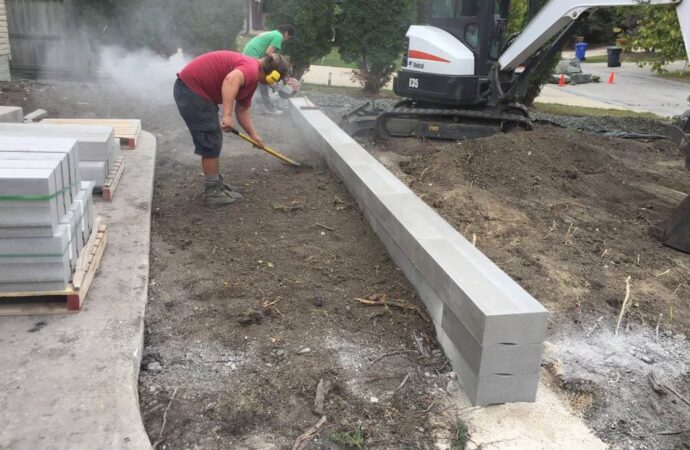 It can be difficult to build walls for residential and commercial owners, and, in fact, DIY construction is never recommended as it comes with more problems than solutions in both the short and long term. Retaining Wall Pros of Boca Raton is available to help with any retaining wall construction and the project you have in your hands or want to get started. We will discuss all details with you so that you're satisfied with the final result and all needs are covered by the wall.
Some people find it tiring to go through the process of building a wall, and we understand that, in the end, this involves more than just choosing the type out of appearance. After all, you want one that will guarantee longevity, durability, and then an aesthetically pleasing look.
You must think about the amount of soil you need to deal with, if water diverting is needed, and if other issues can arise from your project or are already present at your property or land.
It is possible to use a retaining wall for aesthetic purposes only, so don't think you truly need to have problems building one of the walls. You will see that certain plants and trees are planted in particular areas in parks and squares. These areas were made with retaining walls to keep the soil in place and to ensure that it would not take up space in areas where people could sit and walk. It is only for hardscape purposes and does not serve any functional purpose if we consider that the soil wasn't meant to be there, but the wall helped create more usable spaces.
The retaining walls can be used to create different areas on your property or lawn, depending on how they are built and the entire design of the landscape. However, it doesn't address the soil or other problems, such as water that is causing erosion or filtering through the soil, unlike other properties.
There are many factors to consider when choosing and building a retaining wall. As such, our role as industry professionals with over 20 years of experience is to help you get the best result based on your expectations and needs.
How Our Retaining Wall Construction Works — Learn the Full Process
We will take a closer look at our approach so you can be ready regarding how this entire process will be:
How to Choose the Right Type of Retaining Wall
If you're trying to figure out which one is the best so you can come up with a type and design once contacting us, we're confident you will usually come up with an idea and, most of the time, leave with another.
Your budget, landscape design, and needs will all play a role in the design and construction of your retaining walls, which is why the selection—to begin with—must be discussed and taken seriously. There are some better than others. It all depends on what you want.
Concrete and masonry retaining walls are the strongest and most durable of all the options. Poured concrete walls, on the other hand, are the cheapest, along with steel sheet pile retaining walls.
We think masonry walls make great alternatives to stone walls, but they are also great options when it comes down to finding the right balance between hardscaping, soil erosion, and water drainage.
Retaining Wall Pros of Boca Raton will work closely with you to determine the best retaining wall type for your property or space since it doesn't matter what people say and the internet; it is a matter of going over what you actually need and taking options from there while discarding to get to the final one.
Below is our list of additional services: